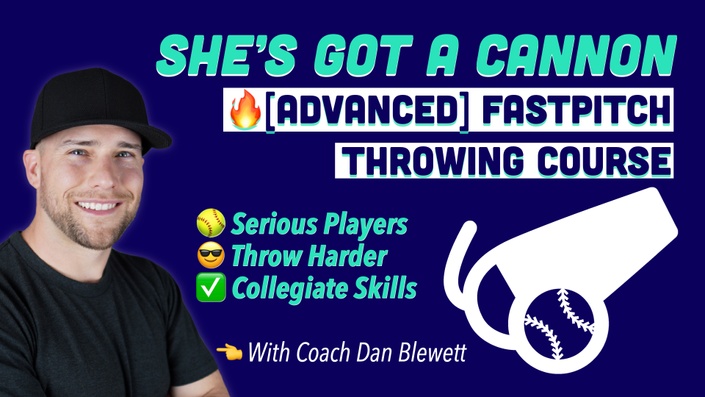 [She's Got a Cannon] Advanced Fastpitch Throwing Course
Learn How to Analyze, Fix and Teach Perfect Softball Throwing Mechanics
Enroll in Course
How The Course Works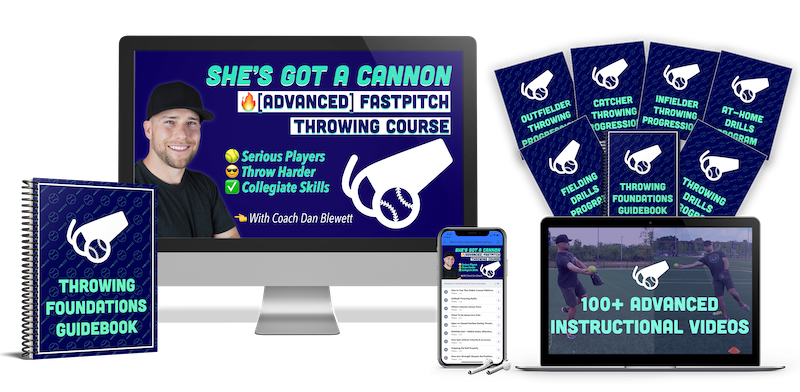 1. Overview
I walk you through our goals and the process - what to focus on and what to ignore, how the whole master plan fits together.
2. You Record Video
I show you how to take slow-motion video properly for our analysis.
3. Easy At-Home Analysis
I walk you through analyzing your videos and together we identity every area for improvement.

4. Pair Drills with the Flaws We Identify
Next, I show you how to choose the perfect drills based on the throwing flaws we've identified.
5. Make a Practice Plan in Proper Order
If we do drills in the right order, many problems will get fixed by the first drills we do. I'll help you make a great practice plan.
That's it!
After that, continue doing the drills and doing a new analysis every few months, so you can add new drills and keep improving.
It's Step-By-Step.
She's Got a Cannon is a step-by-step system that's easy to follow and get results.
Wow! What a Throw! She's got a cannon!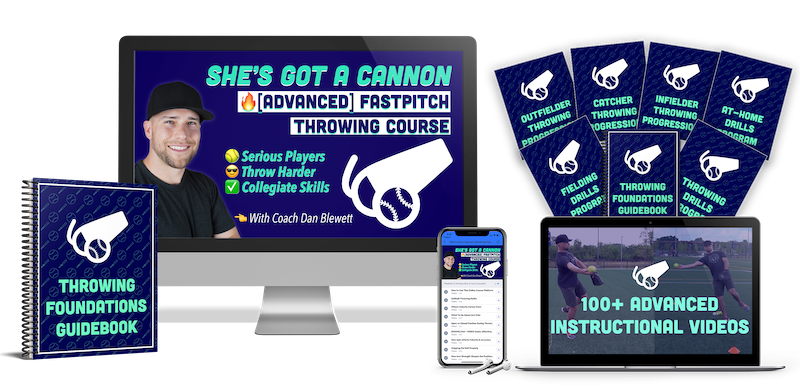 Throwing Velocity is Critical For Success as a Player.
Want to play shortstop? You have to have a good arm.
Want to play center field? You have to have a good arm.
Want to play college softball? You have to have a good arm.
Earn More Playing Time.
Make a Better Team.
Have More Fun Playing Softball.
You'll learn how to analyze mechanics with my step-by-step video method.
Then, I'll show you which flaws to correct in order and which drills will correct them.
You CAN Reach 60 miles per hour!
I've seen very ordinary throwers slowly and surely climb toward the 60mph mark.
But with good instruction and dedication to practice, drill work and strength and conditioning, I believe it's possible for almost any girl.
All girls have a ton to gain.
They make huge gains because they've either been taught very little - or nothing - and rarely work on improving their throwing motion.
The basics go a long way, and the details help a player go even farther once she's mastered the fundamentals of good throwing technique.
Why Take A Course From a Baseball Guy?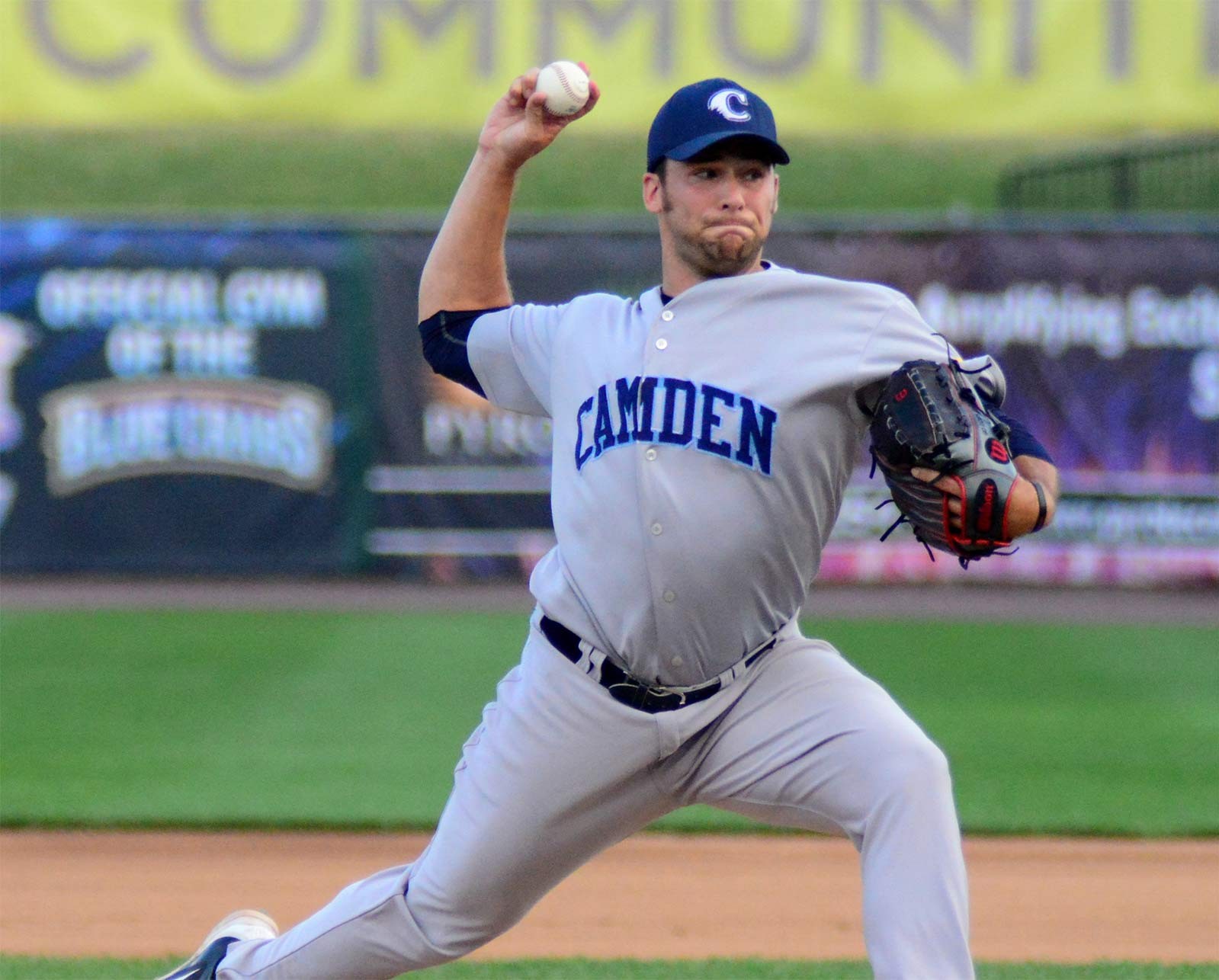 I'm Dan. I threw baseballs for a living, and I threw them hard.
My job depended on every pitch leaving my hand in the low-to-mid 90s.
The pitching velocity instruction out there for aspiring baseball players is light years ahead of softball.
Softball throwing instruction is completely, utterly overlooked. It's sad.
I didn't always throw hard, though. I learned to increase my velocity through good throwing mechanics, dedication to practice and strength training.
It was a long process that I developed the hard way, and have simplified for you.
My Mission
I want kids to stay in sports and have more fun playing them.
I've experiencde firsthand the positive character traits and values that sports build, and I also know that skill is what keeps kids in the game longer.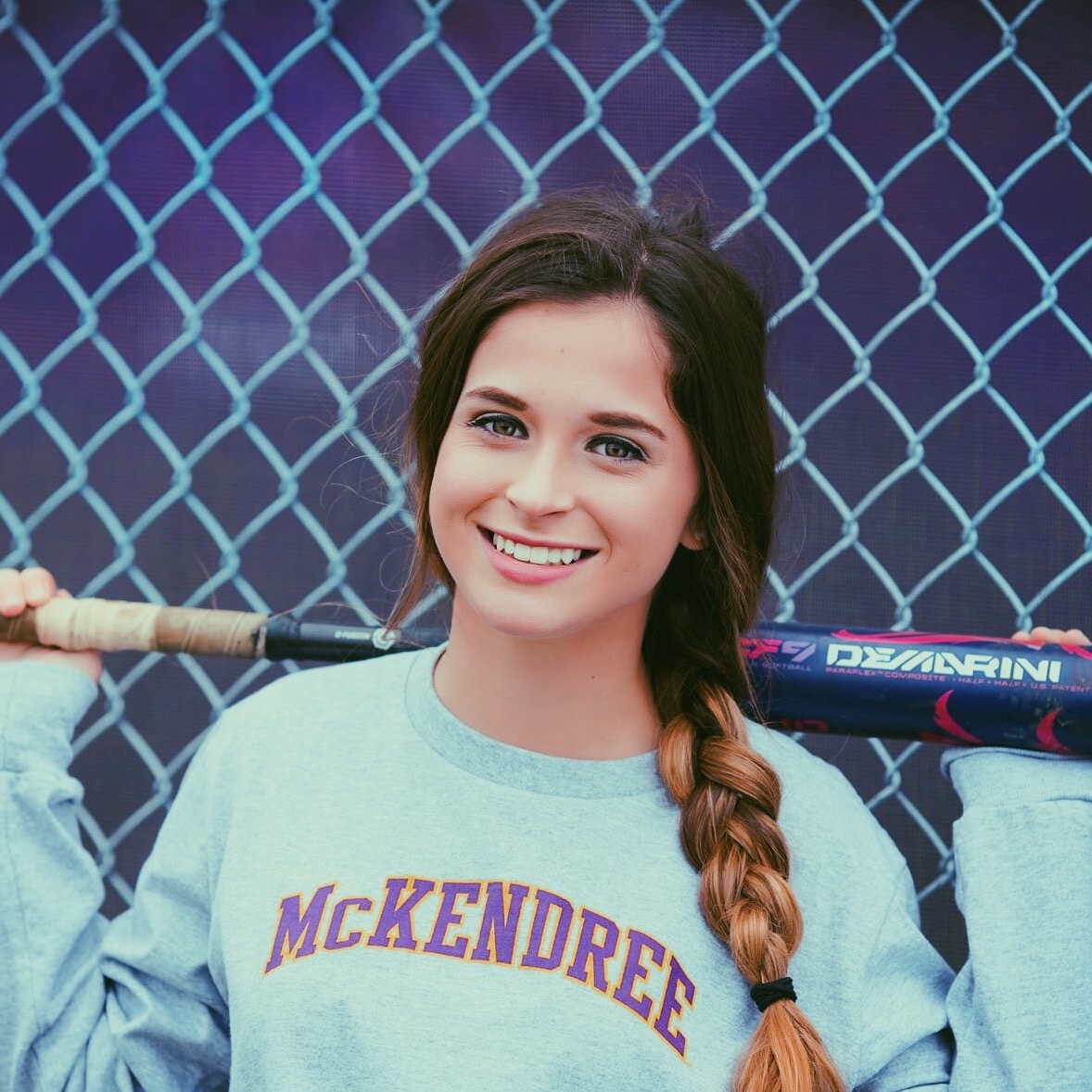 "When I first started working with Dan, I was throwing around 45 mph. Within a couple years, I was in the 60 mph range. He focused on the proper mechanics to prevent injuries & increase accuracy as well as using my full body, adding speed. His academy was my second home for many years, such a fun and determined atmosphere with people who want nothing but the best for you."
- Aspyn, McKendree Softball Commit
What You'll Get Inside This Course

1. Videos for Every Flaw and Drill
I explain everything - you'll have a video of every drill and mechanical flaw, so all the tools you need to build a better throwing arm are at your disposal.
2. Trello Boards for Drills & Practice Plans
Trello is an amazing drag-and-drop app in which you create "boards" - much like having sticky notes on your wall.
In Trello, I've done all the work for you - every flaw and drill is listed, with all boards pre-made. You just drag and drop into your custom order to create your practice plan. Then, take your smartphone to the ballpark and you have your plan at your fingertips.
3. Narrated Lectures
I'll walk you through the big picture and some small details with Powerpoint lectures narrated by yours truly. They're quick and to the point.
4. Easy to Understand Flow Charts
I didn't write all of this junk down - it would be too confusing. Rather, most of the course is done in flow charts, tying concepts together.
You're busy, so I'm keeping it simple and easy to understand.
5. Step-by-Step Guidance
This course is intended to give you all the tools you need to analyze, correct and improve throwing velocity for any softball player or team of players.
I'll walk you through it from start to finish, from the initial video to the finishing touches on a practice plan.
What's Stopping You?
Arm strength is crucial at all levels of softball, and most players aren't doing anything to improve theirs.
My course will give you an immediate competitive advantage that will keep giving.
Stop Settling. Become Great.
Don't settle for grenade-like throws to first base.
Don't settle for getting stuck at second or first base, because they're the least throwing-intensive positions.
Don't settle for sitting on the bench because it's hard to make the routine plays with a weak arm.
What You'll Gain
1. Increased Throwing Velocity.
Most girls gain 3-5 miles per hour after a few months of hard work.
After a year or two, gains of 10+ miles per hour aren't unheard of.
2. Increased Accuracy
Make stronger, more accurate throws.
More consistent mechanics = fewer errors in the field.
3. Increased Confidence
The first time a girl makes a play that she wasn't able to make before...you'll see a huge smile and a huge boost in confidence.
4. More Playing time & More Position Versatility
Players with stronger arms and better footwork can play more positions, giving coaches more places to put them.
5. Better Chance of Playing Varsity & Collegiate Softball
Wanna make the high school varsity team? Play in college?
Being versatile with a good arm makes a huge difference.

6. Have More Fun
Struggling is really, really hard.
Invest in your daughter's happiness - invest in a stronger arm that will help her have more fun on the field.
Enroll In She's Got a Cannon Now
What are you waiting For?
You have a ton to gain and nothing to lose!
Enroll today - Start throwing harder and contributing more on the field.