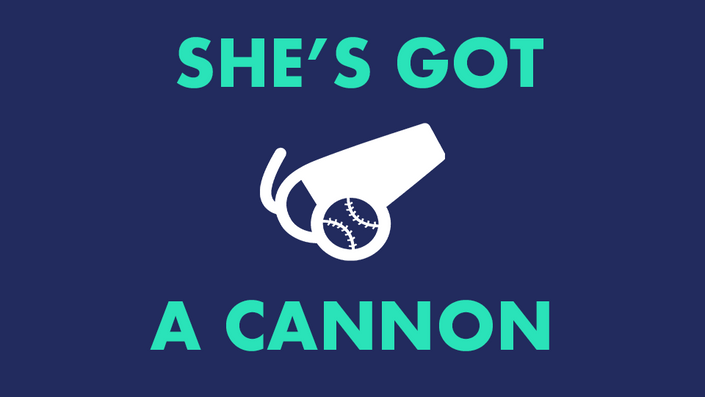 She's Got a Cannon.
Learn How to Analyze, Fix and Teach Perfect Softball Throwing Mechanics
Watch Promo
Enroll Now!
Wow! What a Throw! She's got a cannon!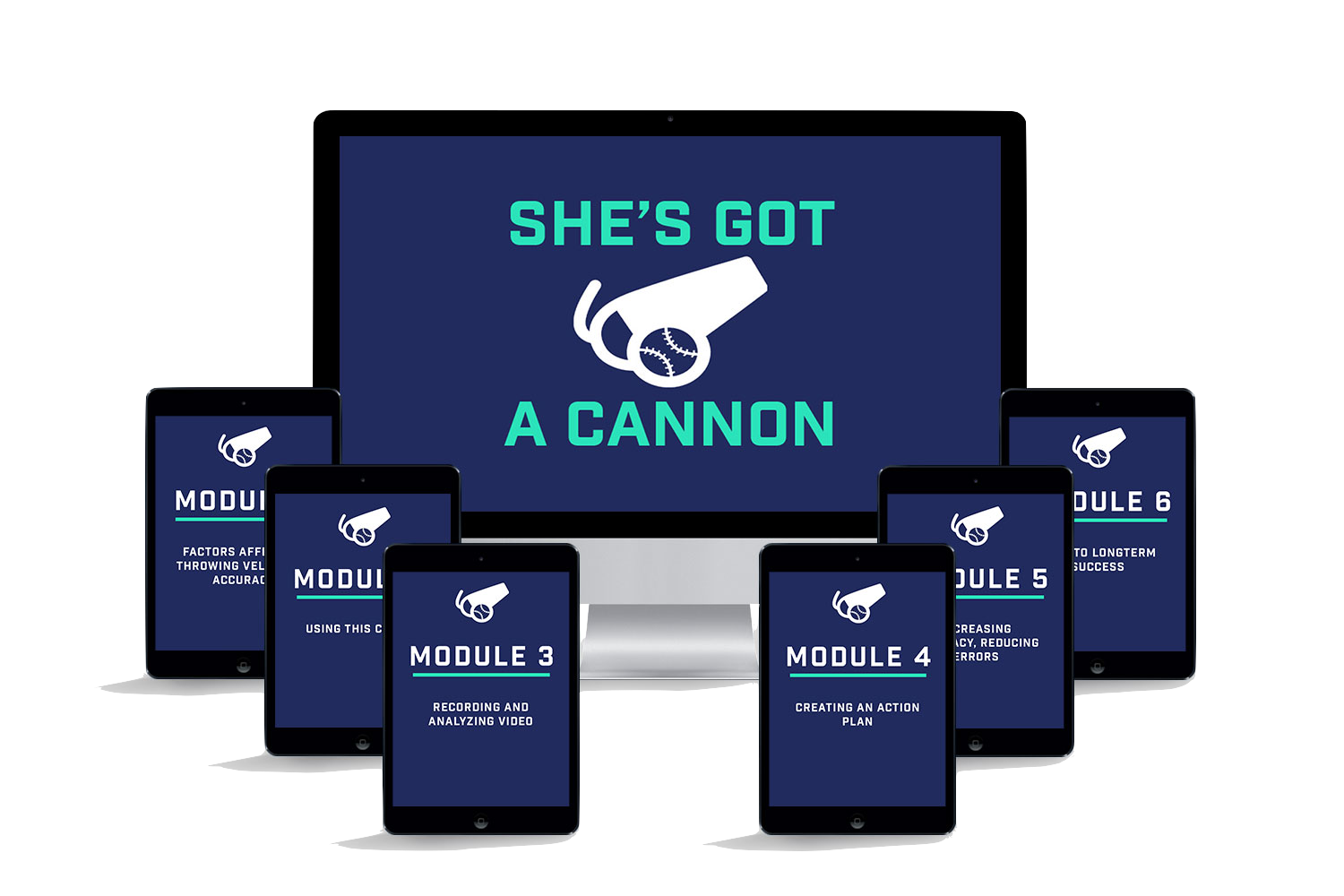 Says the parent in the bleachers, reveling at the centerfielder who just cut down a runner at the plate, trying to score from second on a single.
Some players are just naturally gifted with a cannon for an arm, but ALL girls can improve their arm strength.
Hard-throwing girls are the exception, not the rule.
Many softball players struggle with their arm strength and accuracy.
Unfortunately, most of the overhand throwing instruction they get at practice isn't helping.
Many coaches simply teach the same ineffective drills and concepts that were taught to them, when they were young players.
The potential is there, but you're not tapping it.
I've had clients add 12 miles per hour in just one off-season. It's not typical, but it happens.
Good throwing instruction may be hard to come by, but the concepts are not hard to teach.
I don't promise double-digits gains. I know that nearly any girl can add 5mph to her current throwing speed in a short period of time.
But the big gains take lots of dedication, hard work and resolve, which I can't sell - only the player can bring that to the table.
Throwing Velocity is Critical For Success as a Player.
Want to play shortstop? You have to have a good arm.
Want to play center field? You have to have a good arm.
Want to play college softball? You have to have a good arm!
My Online Throwing Course: She's Got a Cannon
Make Stronger, More Accurate Throws.
Earn More Playing Time.
Make a Better Team.
Have More Fun Playing Softball.
For players who are serious about playing at the next level - or just want to contribute more to their team and have a great time playing the game - my course is for you.
You can be the proud parent or coach who just smiles as others say, Wow! She's got a cannon!
My Course Will Teach You to Throw HARD.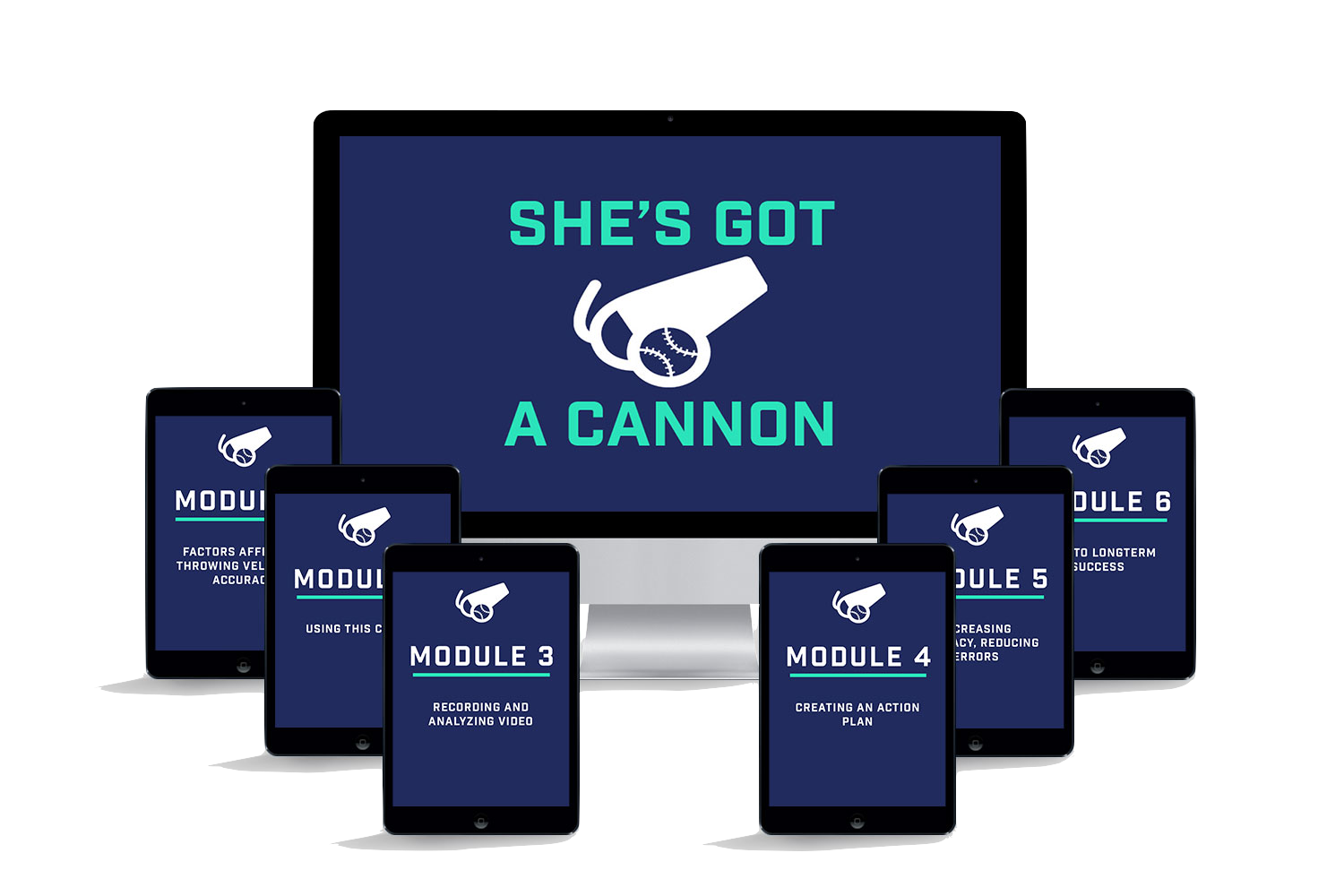 In this video course, you'll learn how to analyze mechanics with my step-by-step video method.
Then, I'll show you which flaws to correct in order, and which drills will correct them. It's all one easy, flowing process.
I've done nearly 10,000 lessons with softball and baseball players over the past seven years, and I've helped countless girls realize velocity gains of 3-5mph in just a few sessions.
It will work for you!
Better Players Have More Fun.

Girls who are more successful at softball are typically more motivated to work harder at it, stay positive during hard times, and stick with the game longer.
These girls will get more out of the game than those who struggle and don't find success.
Arm Strength Buys More Years, More Memories
I'm good at teaching softball players, parents and coaches about the mechanics of throwing harder. I'm passionate about it because more arm strength provides the following:
1. Earn more playing time


2. Play more positions (which also gives more playing time)


3. Convert more batted balls into outs - provide more value to the team


4. Earn a spot on better teams, which in turn will give better coaching and recruiting opportunities


5. Make more great memories as part of a team
Arm Strength Is Holding Your Daughter Back.
Based on my experiences only about 5% of girls have naturally good or great arms.
Thus, there's a 95% chance that your daughter is already being limited by her arm strength!
It doesn't have to be that way.
Good instruction and diligent practice goes a long way, but so does having a specific, easy to follow plan for improvement.
My course is that plan.
Why Take A Course From a Baseball Guy?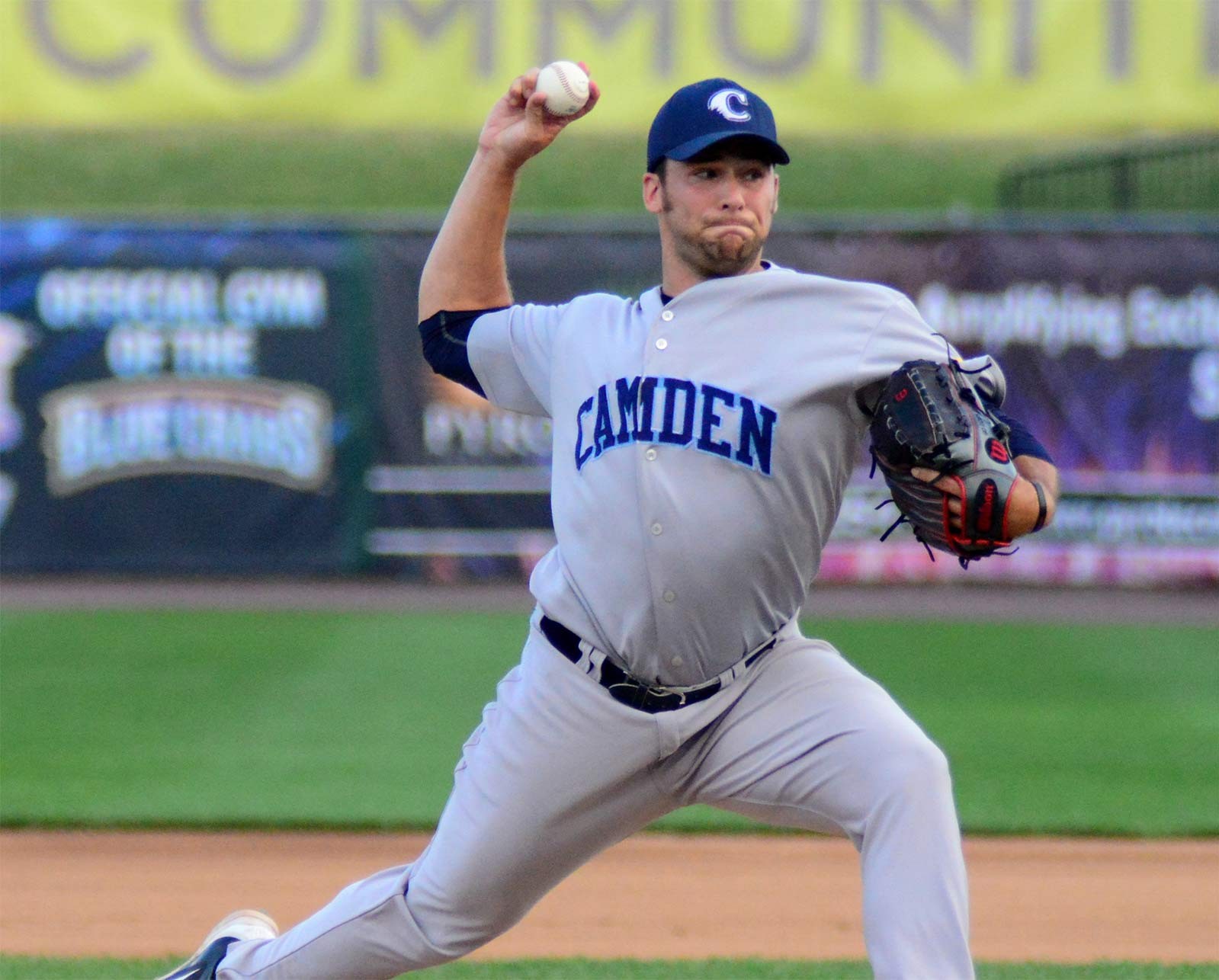 I'm Dan. I threw baseballs for a living, and I threw them hard.
My job depended on every pitch leaving my hand in the low-to-mid 90s.
The pitching velocity instruction out there for aspiring baseball players is light years ahead of softball.
Softball throwing instruction is completely, utterly overlooked. It's sad.
I didn't always throw hard, though. I learned to increase my velocity through good throwing mechanics, dedication to practice and strength training.
It was a long process that I developed the hard way, and have simplified for you.
My Mission
I work with a lot of young athletes - boys and girls in lots of different sports. But, softball and baseball are my favorites, because so much of my identity was formed playing baseball all my life.
I see what softball gives to young girls - they gain confidence, become part of a team that picks them up, learn how to accept failure and be a gracious winner, find their work ethic and learn the value of diligence and details.
In the end, I want kids to stay in sports and have more fun playing them. I've experience firsthand the positive character traits and values that sports build, and I also know that skill is what keeps kids in the game longer.
But, it wasn't always that way.
I didn't earn a scholarship to play in college.
When I arrived as a freshman, I was the last pitcher on the depth chart. I had to improve, and so I left no stone unturned trying to throw harder and become a more effective pitcher.
I Struggled.
I struggled through a lot of hard times during my baseball career, but I got through it because of the intense belief in myself I fostered during the easy times.
Arm strength is a huge factor in becoming a skilled player, so I want to help give softball players that gift.
Arm strength can limit and cut a girl's career short, or help extend it; let's extend it!

This is why I founded Warbird Academy - to share with others the methods I used to build myself from a below-average pitcher (around 80mph as a freshman) to a hard throwing pro pitcher (up to 94mph later in my career).
I can do the same for you.
Does This Conversation Sound Familiar?
Here's a conversation I have a handful of times each year:
Me: Hi! Nice to meet you, I'm Dan. What's your name? What position do you play?
Her: I'm Katie. I play second base mostly, sometimes first.
Me: Okay great. Is second base your favorite position? Or is that just where you seem to end up?
Her: Well, really that's the only place they put me. I had a hard time throwing it across the infield when they tried me at third base.
Me: Ah, I see. Don't worry! We can change that!
A Stronger Arm Will Change EVERYTHING.
The above story is very, very common.
The girls with the weakest arms get put at second or first base, because it's the only place they can play with limited arm strength.
The other girls get to play the other six positions (not including pitcher) and get much more playing time because of it.
It's not fair, and it's not your fault.
For the girls that don't throw as hard, it's not their fault, nor is it their coaches' fault that he or she can't put them at more positions.
Softball just breaks down without arm strength, especially as the game speeds up as players get faster and stronger.
Can't make the throw across the diamond before a fast girl beats it? You can't play third base or shortstop.
Can't hit the cutoff man from the outfield fence? You can't play the outfield.
Can't hit the shortstop in the air from behind the plate? You can't catch.
Softball can be cruel, but it doesn't have to be that way.
There is a solution!
Case Study: The Warbird Aces 16U Softball Team
A few years back, my academy sponsored a 16U softball team and they trained with us twice per week all winter. They did a lot of work on their throwing.
I take radar readings on everyone - I've seen hundreds of girls throw, and I've taken my gun to tryouts when I help out.
The average 16U player throws 46-51mph.
The average D-1 softball player throws 57-62mph.
Wanna know our 16U team's average velocity?
55 miles per hour.
That was our average. We had five players throwing 60+, which is an elite velocity that opens a lot of doors to colleges.
Basically, if you can throw 60+, you've got a cannon.
60+ is a D-1 caliber arm. If you want to play college softball, 55mph is the absolute minimum and 60+ should be your aspiration.
No one ran on us.
No one took the extra base.
We could bobble the ball and still get an out.
We could make plays in the field no one else could.
And the thing is, any team, any player could have that power.
Arm strength made it possible.
You CAN Reach 60 miles per hour!
I've seen very ordinary throwers slowly and surely climb toward the 60mph mark.
I won't guarantee everyone gets there - because not all of them do. It takes resolve and hard work on the part of the player.
But with good instruction and dedication to practice, grillwork and strength and conditioning, I believe it's possible for almost any girl.
All girls have a ton to gain.
They make huge gains because they've either been taught very little - or nothing - and rarely work on improving their throwing motion.
The basics go a long way, and the details help a player go even farther once she's mastered the fundaments of good throwing technique.
Don't Settle For Playing Only Second Base.
Softball is a great sport that gives so much to young girls.
I'm proud to help be a part of the solution - helping girls gain confidence, have more fun, and potentially play varsity and collegiate softball.
I played professional baseball until I was 30 years old, and it was an amazing experience.
If I can play some small part giving another young player more memories, experiences and time on the field, then I'll be happy.
How The Course Works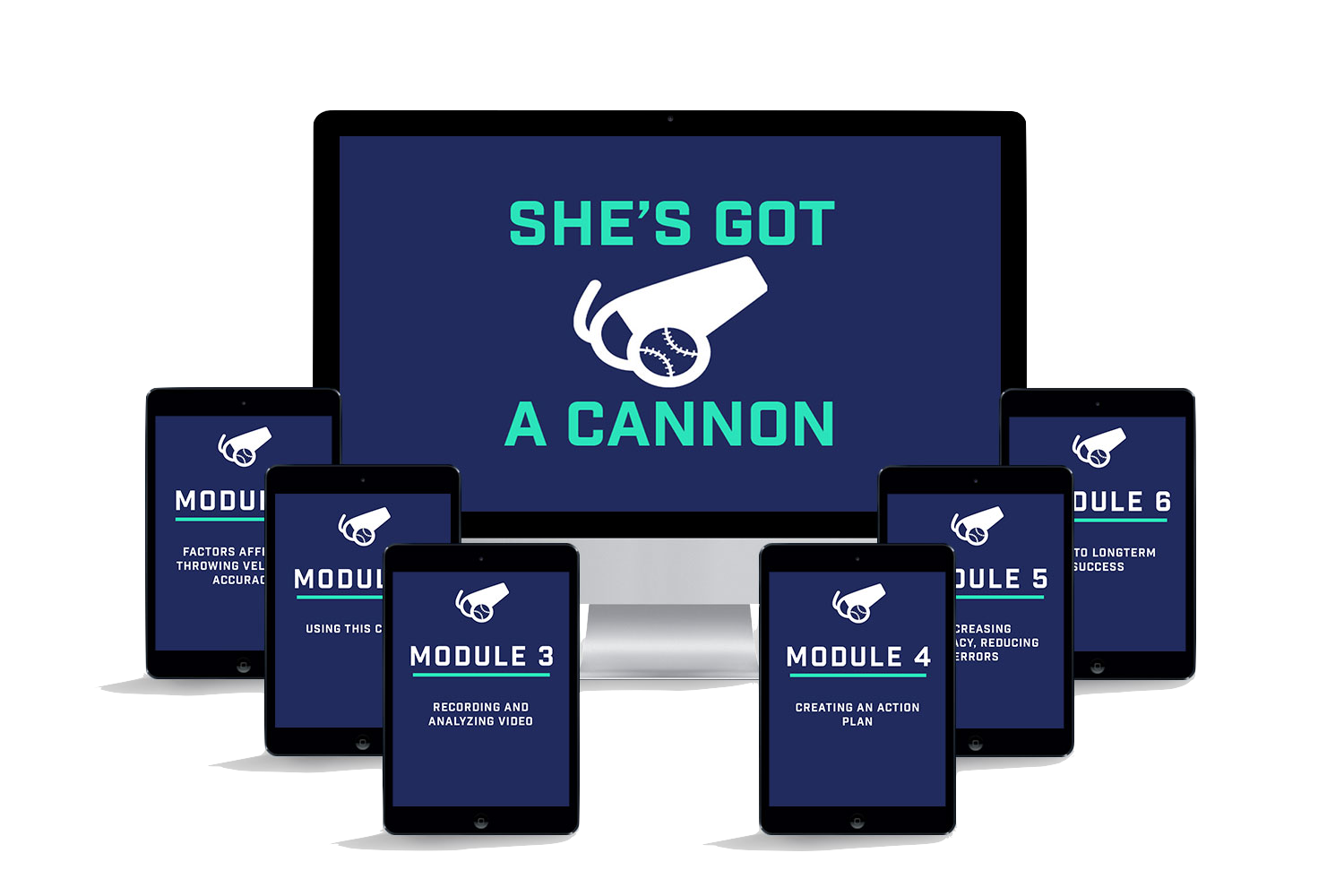 1. Overview
I walk you through our goals and the process - what to focus on and what to ignore, how the whole master plan fits together.
2. How to Record Good Video
I show you how to take slow-motion video properly. Video will be the foundation for know how we can improve throwing mechanics and add throwing velocity.
3. How to Do At-Home Video Analysis
I go through a sample video and explain everything you need to know about mechanics and flaws in the throwing motion.
4. You Record Video & Analyze it
You analyze the video you take and play my sample video at the same time, stopping to note each of the mechanical flaws when they arise.

5. Pair Drills with the Flaws We Identify
I have a master flow chart that quickly shows which drills correct the flaws you've discovered. We make a drag-and-drop list on an amazing free organizational app called Trello.
6. Create an Order for the Drills
I show you how to quickly drag and drop the flaws and drills into an order, so we can tackle the more important ones first. Many drills correct multiple flaws, so we can kill two birds with one stone!
7. Assemble Your Drills into an Actionable Practice Plan
From the video we identified mechanical flaws. Then, we assigned drills for each flaw. Then, we ordered the drill to make the biggest improvements first. Finally, we assign an amount of throws for each day and week so you have a plan at your fingertips to go out and practice.
That's it!
After that, follow my instructions on practicing the drills, then re-assess regularly to add new drills to your practice plan and check items off your list when you improve. It's simple and will be a resource you turn to for the rest of your career.
It's Step-By-Step.
She's Got a Cannon is a step-by-step system designed to give you everything I've learned working with softball players.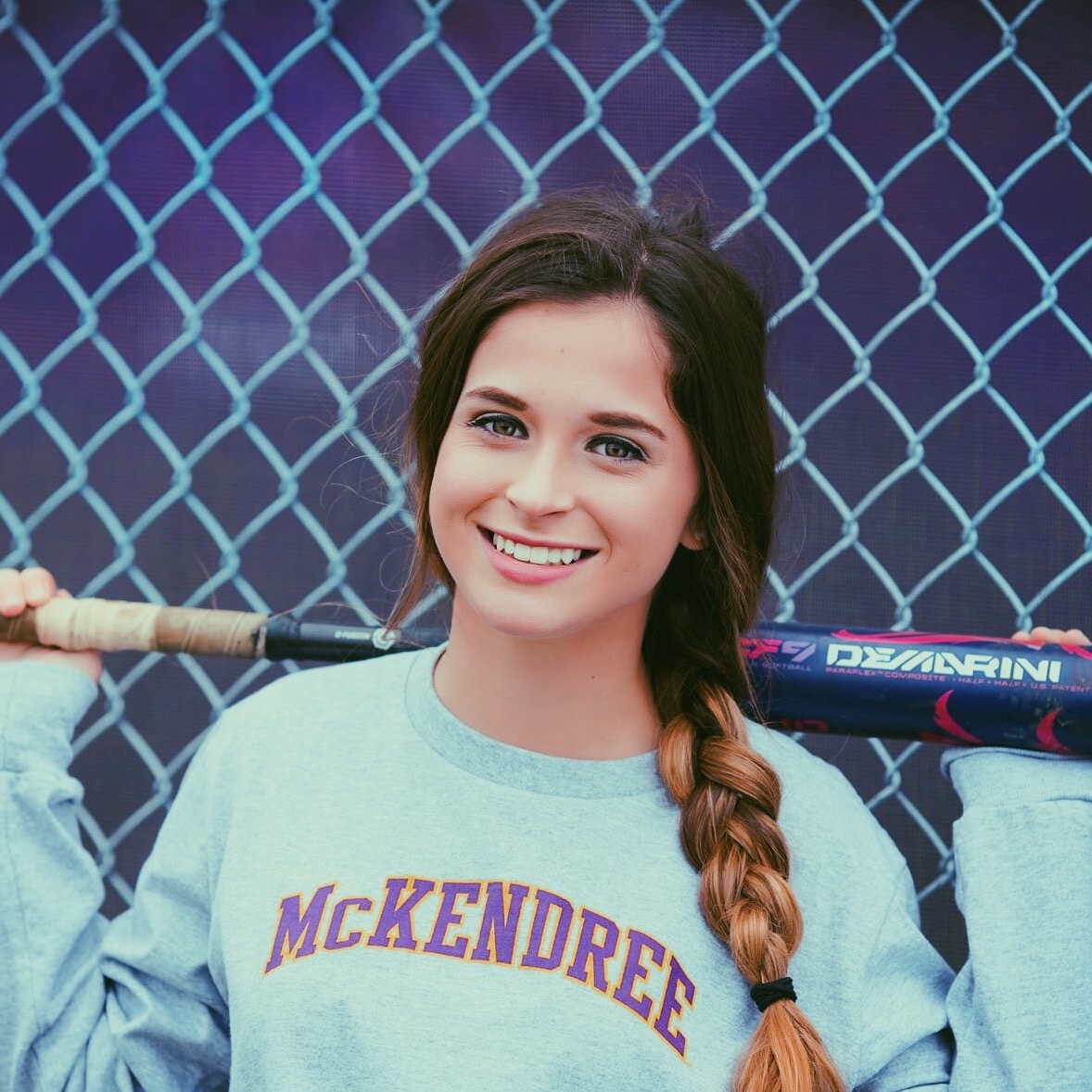 "When I first started working with Dan, I was throwing around 45 mph. Within a couple years, I was in the 60 mph range. He focused on the proper mechanics to prevent injuries & increase accuracy as well as using my full body, adding speed. His academy was my second home for many years, such a fun and determined atmosphere with people who want nothing but the best for you."
- Aspyn, McKendree Softball Commit
This Course is High-Tech.
My course is like nothing you've seen before, but that's because it will make it easier and faster to get the results you want.
Even if you're not technologically savvy, I walk you through it all - it's very, very easy. I promise you'll be blown away, even if you're not a techie.
Videos, flow charts and the free Trello App are at the core of it.
My goal is to eliminate paper and annoying books, PDFs and other items that get destroyed in the bottom of a softball bag.
You'll have everything you need digitally in the palm of your hand.

World's Most Advanced Online Course Platform
I use the Teachable online course platform, which gives you access to all course materials on your computer or Apple iOS app (sorry - no Android app yet).
It's an amazing service, and you get lifetime access to my course when you buy!
What You'll Get Inside This Course

1. Videos for Every Flaw and Drill
I explain everything - you'll have a video of every drill and mechanical flaw, so all the tools you need to build a better throwing arm are at your disposal.
2. Trello Boards for Drills & Practice Plans
Trello is an amazing drag-and-drop app in which you create "boards" - much like having sticky notes on your wall.
In Trello, I've done all the work for you - every flaw and drill is listed, with all boards pre-made. You just drag and drop into your custom order to create your practice plan. Then, take your smartphone to the ballpark and you have your plan at your fingertips.
3. Narrated Lectures
I'll walk you through the big picture and some small details with Powerpoint lectures narrated by yours truly. They're quick and to the point.
4. Easy to Understand Flow Charts
I didn't write all of this junk down - it would be too confusing. Rather, most of the course is done in flow charts, tying concepts together.
You're busy, so I'm keeping it simple and easy to understand.
5. Step-by-Step Guidance
This course is intended to give you all the tools you need to analyze, correct and improve throwing velocity for any softball player or team of players.
I'll walk you through it from start to finish, from the initial video to the finishing touches on a practice plan.
What's Stopping You?
Arm strength is crucial at all levels of softball, and most players aren't doing anything to improve theirs.
My course will give you an immediate competitive advantage that will keep giving.
Stop Settling. Become Great.
Don't settle for grenade-like throws to first base.
Don't settle for getting stuck at second or first base, because they're the least throwing-intensive positions.
Don't settle for sitting on the bench because it's hard to make the routine plays with a weak arm.
Take the Course. Here's What You'll Gain
1. Increased Throwing Velocity.
Most girls gain 3-5 miles per hour if they dedicate themselves to their training.
The sky is the limit though, and after a year or two, gains of 10+ miles per hour aren't unheard of.
2. Increased Accuracy
It's not just about velocity. Improved throwing mechanics will yield stronger, more accurate throws. My system will help your daughter become more repeatable and make fewer errors in the field.
3. Increased Confidence
The first time a girl makes a play that she wasn't able to make before...you'll see a huge smile and a huge boost in confidence. This is what we're ultimately looking for!
4. Play More Positions
Stronger-armed players can play more positions in the field, and coaches trust them anywhere to make plays. Players need experience at numerous positions to find out where they're best, where their true calling in softball might be.

5. More Playing time
At the core of all of this is playing time - stronger armed players make more plays in the field, can play more positions, and thus stay on the field longer.
6. Better Chance of Playing Varsity & Collegiate Softball
Wanna make the high school varsity team? Play in college? Being a versatile player is VERY important to these coaches. Maybe they have a stud player in your daughter's normal position...can she play somewhere else?

7. Enjoy The Game More
Playing well is fun. Struggling is really, really hard. Invest in your daughter's happiness - invest in a stronger arm that will help her have more fun on the field.
Course Curriculum
Module 1 | Factors Affecting Throwing Velocity & Accuracy
Available in days
days after you enroll
Module 2 | Using This Course
Available in days
days after you enroll
Enroll In She's Got a Cannon Now
What are you waiting For?
You have a ton to gain and nothing to lose!
Enroll today - Start throwing harder and contributing more on the field.